Hello lovely teachers and welcome back to another exciting year…Chinese Year of the Dragon, Year the Mayan Calendar tells us the world will end…what exciting things are in store for you all this year I wonder?
I wanted to offer you some fun ideas for your students to make name plates for their desks, or tubs, or lockers or whatever area of the room needs labelling – maybe the different resources around the room.
It is a great way to get doodling and get the artistic juices flowing, helping the kids to take ownership of the space they will spend the next year in, and it's just fun!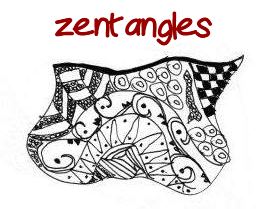 There is a wonderful artform that you may have heard of called a Zentangle.  Basically it is doodling typically with a black pen on white paper – google Zentangle and you will see some wonderful examples.
It is a great way to create effective name plates and doodling is very good for the brain  - [check out this doodling post here].
There is a Homeschooling-Ideas  has excellent resources to get you started – but it is really easy even for the youngest students to do if you write their name for them first and let them 'zentangle' around it…and let's face it when they go home and say they learned to 'Zentangle' at school today…great word isn't it!  Conjures up all kinds of fun images straight away!
Happy Zentangling!!! And here's to a fabulous 2012 together.